Scandi-Style Kitchen Inspiration
When you want clean lines and a minimalist look for your kitchen, there are plenty of contemporary and modern styles to suit. But when you long for simplicity and sophistication with warm touches and a soothing effect, then Scandi kitchen chic is the perfect solution.
Scandinavian kitchens are all about pared-back designs, natural materials and a homely feel. Rather than being stark and cool, Scandi kitchens embrace a softer vibe, designed originally to combat the Nordic climate with its bitter winters and short days. It's a style that has become increasingly popular in the UK with 47.2k tags on Instagram for #scandikitchen. As well as being easy to accessorise and update as the seasons change, it's also easy to keep clean as the aim is to create a design that is clutter free and therefore works well for busy family homes as well as multifunctional spaces, including open plan living. Read on to discover more about Scandi and hygge kitchen design.
This deVOL design is a celebration of craftsmanship. The handles and brackets have been aged at the deVOL mill, while the porcelain pendant is handcrafted at its ceramic studio. The Mayan taps are crafted by us at our UK foundry and finished in an exclusive aged brass finish. The vintage pots and stool are also sold by deVOL.
What is a Scandi-style kitchen?
There's not really one way of explaining what a Scandi-style kitchen is. It's more about creating layers without being overpowering. Nordic design is all about letting the light in – as much light as possible – to brighten up those shorter winter days. To complement, think lots of white and pale surfaces to 'bounce' light back into the room. This means choosing neutral-coloured cabinets and worksurfaces, floor and wall tones too.
Earthy tones and natural materials including reclaimed wooden worksurfaces and brass taps such as our aged brass Mayan collection can warm up a Scandi-style design as seen in @simplyscandikatie's home.
To inject warmth into a Scandi kitchen scheme, add earthy colours or as much natural wood as you dare. Consider solid timber or engineered wooden flooring, solid wooden worksurfaces or butcher's blocks and wooden cabinets. The latest twist is for fluted wood doors or fluted glass fronts to break up the look; as well as timber units with a horizontal grain. Another element popular in Scandi kitchens is texture. This could be in the form of unlacquered brass taps that take on a unique patina over time, a bow-fronted or fluted statement sink from Shaws of Darwen and plenty of faux fur throws on bench seating or window seats for comfort when dining or entertaining.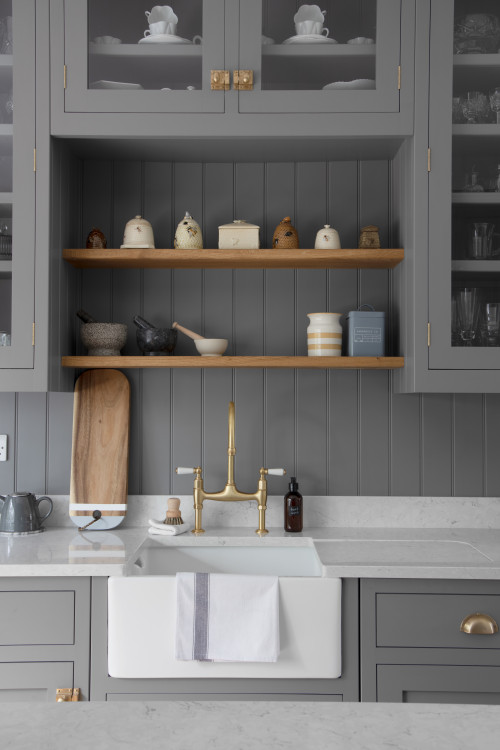 This bespoke, hand-painted kitchen by
Lund & Law
features plenty of storage and our Ionian mixer in satin brass with porcelain lever handles. Photo credit:
Jamie Thomson
.
What makes a Scandinavian kitchen?
The key to a Scandi-style kitchen is ensuring it remains clutter-free, which does mean keeping on top of tidying. This is made easier with concealed storage such as pocket doors, tambour shutters and islands with deep pan drawers or cupboards built-in. You can also quickly and easily stack crockery, cookware and glassware away after use with open shelving, dressers or a walk-in pantry. To help keep things cosy, use lighting in layers, too. Pendant shades in blown glass designs or pops of colour can be hung over the island, breakfast bar or dining table, while task lighting over the sink, cooker or hob and worksurfaces will make food prep and cooking safer. Choose warm LEDs to make the space feel homely or go for a filament bulb to make more of a statement.
In her kitchen, Faye Donnellan of @fayes_home_edit frames our pewter Phoenician mixer and Rinse along with our Traditional soap dispenser with wooden open shelving above.
How do you make a Scandi kitchen?
To create your own Scandi kitchen, start with the walls. Give them a fresh lick of paint in a warm white hue. Next, the flooring. Light or whitewashed woods are perfect for this look so consider engineered timber, luxury vinyl tile or laminate suitable for kitchens in a pale pine, beech or ash. For splashbacks, white rectangular bevelled tiles laid in a brickwork effect will never fail, especially with grey grouting, though this style has moved on and the latest looks include scalloped or hexagon shaped tiles for more of an impact. There are plenty of things you can do to an existing scheme, too, which won't cost much. Even something as small as standing a few wooden chopping boards together on the worksurface can bring elements of Scandi chic into your kitchen or group your favourite ceramics or glasses together on an open shelf.
This space by @laurenoliviadesign is warm and welcoming with plenty of white and wood. Our aged brass Parthian mini instant hot water tap looks stunning with the deVOL pendant lighting and oak stools.
How do you make a Hygge kitchen?
Pronounced hoo-guh, 'hygge' is a word in Danish and Norwegian that describes a feeling of cosiness and comfort, wellbeing and contentment. To make a hygge kitchen, make your space as soothing and as cosy as possible. Use faux fur throws and rugs draped over a sofa in an open-plan kitchen; add soft woollen blankets and furry cushions for relaxing with a good book on a rainy weekend and bring candles and plants into the room to bring layered texture and light.
Make bar stools even more comfortable as seen in this kitchen from @lovetearsandteepees. Our Athenian mixer and rinse in polished brass highlights the metallic accents wonderfully.
What is modern Scandinavian style?
Modern Scandinavian style takes its nod from Mid-Century modern furniture, which is all about simplicity, effortless chic and functionality. Every item should be practical and have a purpose. Similar to Shaker style, Scandi kitchens are more of a curated collection of elements that bring something to the space. Along with clean lines and natural materials, furniture should be comfortable and fuss-free. Scandi kitchens tend to use a lot of white and wood, as well as glass and texture. You can add your own spin with a stunning matt black sink for instance, a statement tap or wow factor window dressings. Key words are calm and comfort, which are just what we need to keep us going during the cold months ahead.
Add a practical Polaris 3-in-1 Instant Hot Tap in aged brass to keep your kitchen clutter-free by removing the need for a kettle, just like @susie_savinson.